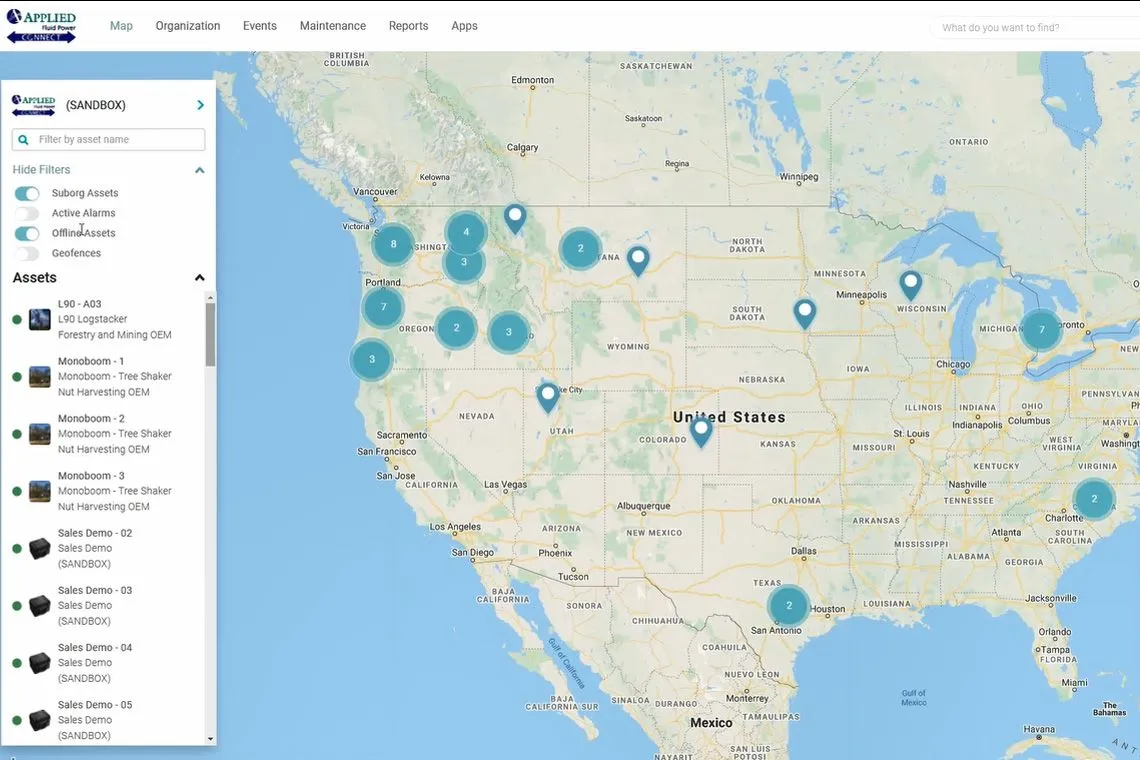 Keep Track of Your Assets with Geo-Tracking
By implementing GPS monitoring into your equipment, you can recover stolen machines, avoid misuse, and more
Thanks to expanding cellular networks and more affordable options for GPS tracking, monitoring your equipment's location is easier than ever. Consider the benefits of equipping your fleet with a geo-tracking solution.
Know the Real-Time Location of Your Equipment
Even the most robust systems and attentive employees make errors that could result in a piece of equipment getting left behind or being delivered to the wrong site. No longer rely on operators to report on equipment location. Implementing a central monitoring portal to show the location of all GPS-enabled equipment elicits complete visibility on your assets.


Recover Stolen Machines
If a small machine, such as a generator, is left onsite overnight, it has the potential to be stolen before workers return in the morning. With geo-tracking, the GPS can feed active, time-stamped location data to your central facility, so you can see when the machine left the site and where it was relocated. There is more than just locating the stolen machine; the GPS can even be programmed while the machine is idle. If the GPS were to get disabled, you have the ability to render the machine inoperable.


Enforce Rental Compliance
Geo-tracking helps alleviate the conflict of defaulted rental contracts. With this new technology, the equipment owner now has the opportunity to remotely disable equipment if the renter has not provided payment making recovering rental assets more efficient. Additionally, it provides a historical breadcrumb trail of all of your assets. You have a record of equipment location, rentals, returns, etc.

Equipment misuse is also a risk when renting or subletting equipment to third party users. Because renters are not part of your organization, you cannot be sure that they are properly trained or will utilize your equipment within its functionality parameters. Perhaps they truly need a larger, more powerful machine for their task, but they don't want to invest in larger equipment. Using the wrong machine for the task can stress the machine and reduce its lifespan. Through tracking location and operating data, you can be sure that your rented equipment is being used within its recommended limits.
Avoid Safety Hazards
A lack of proper training, experience, or other factors may lead to misuse of the equipment. If a machine is not used for its intended purpose, it could become a safety hazard. Improper use could lead to costly safety liabilities. With geo-tracking, owners now have the ability to oversee machines and ensure they are being used within their original design intent. With your machine feeding operating data alongside location data via the GPS, this misuse can be immediately identified and corrected.
Keep Productivity on Schedule
Tracking your machine's physical location can help determine whether your work is on schedule or not. Overseeing equipment arrivals and departures from the work location gives insight on productivity. Being able to monitor this data over time can help determine if there are areas in workflow that may need adjusting. Additionally, understanding equipment use allows for better planning of future projects.


Analyze Blackbox Data
Now, you can review an asset's location and activity over time. Data loggers trace evidence of machine variables over a set period. Tracking location and machine operation gives an inside look at what the machine was doing and where it was operating when a particular event occurred, avoiding costly warranty claims. Analyzing this data can give insight on how to avoid the same failure in the future.
---
Get Started Geo-Tracking with Applied Fluid Power

Applied Fluid Power® has a wide variety of options to implement a geo-tracking program for your application. We collaborate with you to determine the best, most efficient way to track your equipment. Start the conversation with Applied Fluid Power today to start reaping the benefits of geo-tracking your machines.